Skip to Content
Restorative Dentistry in Laurel, MD
What is Restorative Dentistry?
Restorative dentistry helps your teeth look and feel as good as new. Dr. Batz & Weiner Family Dentistry offers restorative dentistry services to restore your teeth's shape, function, and appearance. Our exemplary dental restorations include services from saving teeth with root canals and repairing fractured teeth to placing dental veneers and preventing the further loss of teeth. We're devoted to helping you look and feel your best. Contact us today to schedule an appointment.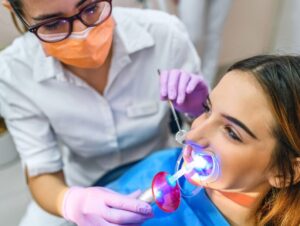 Reasons For Restorative Dentistry
Restorative dentistry offers many benefits and treatments to:
Restore comfortable chewing
Boost confidence with your smile
Correct an improper bite
Close gaps and spaces between teeth
Replace missing or damaged teeth
Help prevent the loss of teeth
What Restorative Dentistry Treatments Do We Offer?
Dr. Batz & Weiner Family Dentistry offers many different types of restorative dentistry treatments to improve your teeth and smile, including:
Why Choose Dr. Batz & Weiner Family Dentistry?
Since 1990, Dr. Batz & Weiner Family Dentistry has provided exemplary dental care in Laurel, MD, and the Washington Metropolitan area. At Dr. Batz and Weiner Family Dentistry, we treat each patient like family and help boost smiles in every way possible. Our restorative dentistry treatments are performed by our qualified, certified dentistry team. We're happy to offer our comprehensive dental services to the entire family. Whether you need a routine check-up or restorative dentistry procedures, we're here for you. Contact us today to make an appointment.
Schedule Your Same Day Appointment!