Skip to Content
Maryland Crowns and Bridges
Crowns and bridges are both prosthetic devices that are fixed onto teeth or implants. Most are permanent solutions to dental issues, but they can also be used as a temporary fix between procedures. Crowns are used to repair damaged teeth that don't quite require removal—they prevent further damage and decay from occurring by acting as a protective covering.
A bridge, on the other hand, is used to anchor a prosthetic implant to the two healthy teeth surrounding it. By grounding the implant to two healthy teeth, you're able to maintain a natural-looking smile.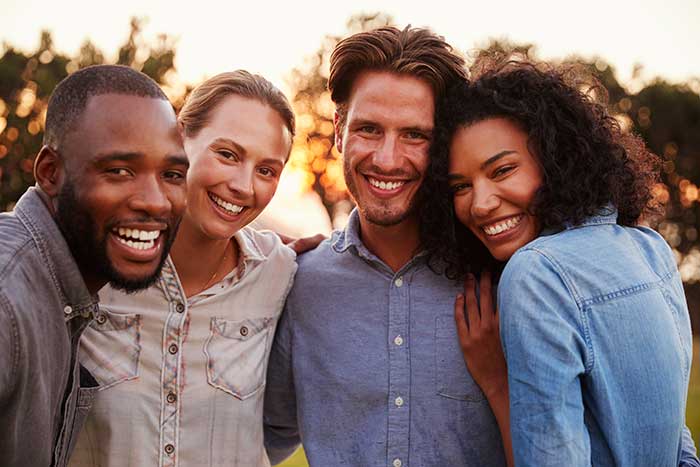 Save Your Smile with a Dental Crown
A crown that's cemented to an existing tooth is used to either "cap" a damaged tooth or cover it entirely. If a crown is placed on top of an implant, it is generally for functional reasons, so it can perform like a natural tooth. We rely on our teeth to speak properly and chew effectively; a crown can help improve your mouth's function overnight.
There are many different materials that crowns are made from, but most commonly you'll find that permanent crowns are made from stainless steel, metal, porcelain, resin, or ceramic. Your doctor is happy to discuss the differences between the materials, and why one may be better for your situation over another.
Common Reasons Crowns Are Used During Dental Procedures
To keep a weak tooth from cracking or chipping further as time goes on
To fix a tooth that has already fractured or to prevent a tooth from wearing down significantly
To hold a bridge in the proper place (more about bridges below)
To cover a dental implant so it can function like a natural tooth
For aesthetic reasons, such as covering a discolored or misshapen tooth
To cover a tooth that has undergone root canal therapy
Repair Your Damaged Tooth with a Dental Bridge
Crowns and bridges work in conjunction with one another to fill in the space left by a missing or removed tooth. Instead of covering a damaged tooth like a crown, a bridge takes the place of a damaged tooth that had to be removed. After extraction, a false tooth made from metal, alloys, or porcelain is implanted in the space. A crown is placed over each of the two teeth surrounding the false tooth or implant, which is then "bridged" by the dental bridge. It's added for extra security and function, literally creating a bridge over your natural teeth and the false tooth or implant.
Dental bridges have many functions, which depend on each person's particular situation.
To maintain a healthy-looking smile
To make chewing and speaking easier
To prevent increased wear and tear on remaining healthy teeth
Dental bridge procedures generally occur over a few visits, though this depends on your specific situation. Dr. Batz and Dr. Weiner are highly skilled in providing crown and bridge services for your entire family. There are a number of reasons you might need a crown or bridge; visit us to assess your particular situation today.
Schedule Your Same Day Appointment!